Flashpacking: backpacking with a difference!
Over the last few years the term "Flashpacking" has started to find its way into travel blogs and guides all over the web, but what exactly is it? For many it's an aspiration to maintain part of their youth whilst utilising their experience and assets – a way of combining a love for exploratory travel and a sense of freedom without having to "rough it". Basically, it's sophisticated backpacking.
Flashpacking is a backpacking alternative that appeals to those who have a little more money, a lot less time and prefer an en-suite hotel room with WiFi than a bunk bed in a hostel. The principles are the same: explore new lands and immerse yourself in new cultures, but instead of spending 23 hours on a train from Berlin to Rome (or even longer by bus!) a 5 hour flight would do the trick! Flashpackers also tend to have less of plan of where they need to be and when they need to arrive – this comes down to laptops accompanying flashpackers on their travels, meaning they can make the most of the latest online deals as and when they become available.
Does flashpacking sound interesting to you? I don't blame you! Before embarking on your mini-trip of a lifetime, here are some top tips and things to consider for your flashpack adventure:
1) Pack light – shop on the way
Flashpacking is all about taking the essentials with you… by essentials I mean laptop, phone, camera, cards and cash (as well as batteries and chargers for the electronics!). You don't want to get too bogged down with clothes, especially as your plans may change. Being selective about the items of clothing you take with you has a two-fold advantage; firstly, you have to carry less with you. Secondly, you can experience market shopping for clothes as you go – not only a practical solution when you may not know your next destination, but also a way to engage in memorable experiences.
2) Plans may change – that's ok!
One of the beauties of flashpacking is that by taking modern technology with you (and making sure your accommodation has WiFi!) you can book flights and hotel rooms on the move. This means that you don't need to have a full-blown itinerary beforehand; if you're enjoying some quiet downtime at the beach, stay another day – you can book your flight to visit that historic city tomorrow. If spontaneity is your thing then that's a good enough reason to pack light as you may not have a clue where you will end up.
3) Be careful of roaming charges – use WiFi where available
As it stands roaming charges can be wildly expensive: just having Internet access on your phone for checking emails abroad can run up a huge bill. The best option is to find WiFi hot spots, which are common in hotels, restaurants, cafés, high streets, on the beach… pretty much everywhere these days! WiFi may not always be free (in some hotels it is not uncommon to pay either an hourly fee or daily), but it certainly will be a great deal cheaper than paying roaming charges on your phone or tablet.
4) Work on the road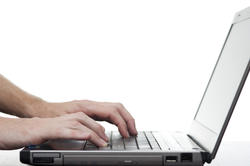 Having a laptop brings other advantages aside from being able to read reviews of a hotel before booking – it allows you to do some work whilst you're travelling. On the face of it this may not seem like an advantage at all; however, it could be turned into one – especially if you want a little income on your travels. If your usual world of work is in the online arena, there is nothing stopping you from writing the odd article or designing a new web page whilst waiting for a connecting flight. For those flashpacking for several months (or those who love to work) it's quite rewarding knowing that your two hours of downtime just paid for dinner! However, your flashpack holiday might be time you wish to enjoy away from the office, so it would be understandable if you didn't want to work on your holiday.
5) Make sure you're fully insured
Admittedly not the coolest out of the five, but probably the most important, having the right type of insurance is vital. Flashpacking is all about constantly moving around, throwing yourself at new experiences and exploring new cultures – all with very expensive equipment. Whilst it would be aggravating to lose a camera without backing up the photos, the situation would be so much worse if you then had to fork out for a new camera on your return.
When it comes to purchasing travel insurance you need to be careful, especially if you're the care-free spontaneous type. Travel insurers will want to know every destination you are going to in order to make sure you are fully insured: this may be difficult to provide if you don't know yourself! If this sounds like you then you may be better off with an annual multi trip (AMT) policy, which will let you visit any country within a specific region (usually divided by Europe, Worldwide exc. USA and Worldwide inc. USA). AMT's don't cost too much more than a single trip (for example, Staysure offers European AMT from £30) and the beauty of them is that if you go on a second holiday later in the year you're already covered.
I hope that you found our flashpacking tips useful and that you've been inspired to grab your laptop and hit the road! If so, make sure to share your travel stories with us.
This post was submitted by Joseph.